The Chinese Marginal Seas (CMS) Case Study is a subprogram of the Continental Margins Working Group supported by the Integrated Marine Biosphere Research (IMBeR) and Future Earth Coasts (FEC). After years of COVID-19 pause, the Chinese Marginal Seas Case Study held its third annual meeting virtually on 14-15 November 2022 (full agenda). The opening session began with a warm welcome from IMBeR Strategy Director Prof. GiHoon Hong on behalf of the organizing committee. Prof. Su Mei Liu, the Chair, gave a comprehensive overview of the Chinese Marginal Seas Case Study.
Part I: Webinar – Tour of Asian Marginal Seas  
The 3-hour webinar entitled "Tour of Asian Marginal Seas" was held right after the opening session, with lively broadcast worldwide through the KouShare platform. The IMBeR International Project Office (IPO) and CMS Study Group invited distinguished colleagues to feature their perspectives on their marginal seas. Webinar speakers include Dr. Moritz Mueller, professor at the Swinburne University of Technology, Malaysia; Dr. A'an Johan Wahyudi, Senior Research Scientist in the National Research and Innovation Agency (BRIN), Indonesia; Dr. Pavel Tischenko, Head of Hydrochemistry Lab in the Pacific Oceanological Institute, Russian Academy of Sciences, Russia; Dr. Sheikh Aftab Uddin, professor in the University of Chittagong, Bangladesh; and Dr. Samina Kidwai, Director General of the National Institute of Oceanography, Pakistan. Professors GiHoon Hong, Jing Zhang (IMBeR National Contact for China), and Yongming Luo (FEC Executive Committee member) convened this webinar session.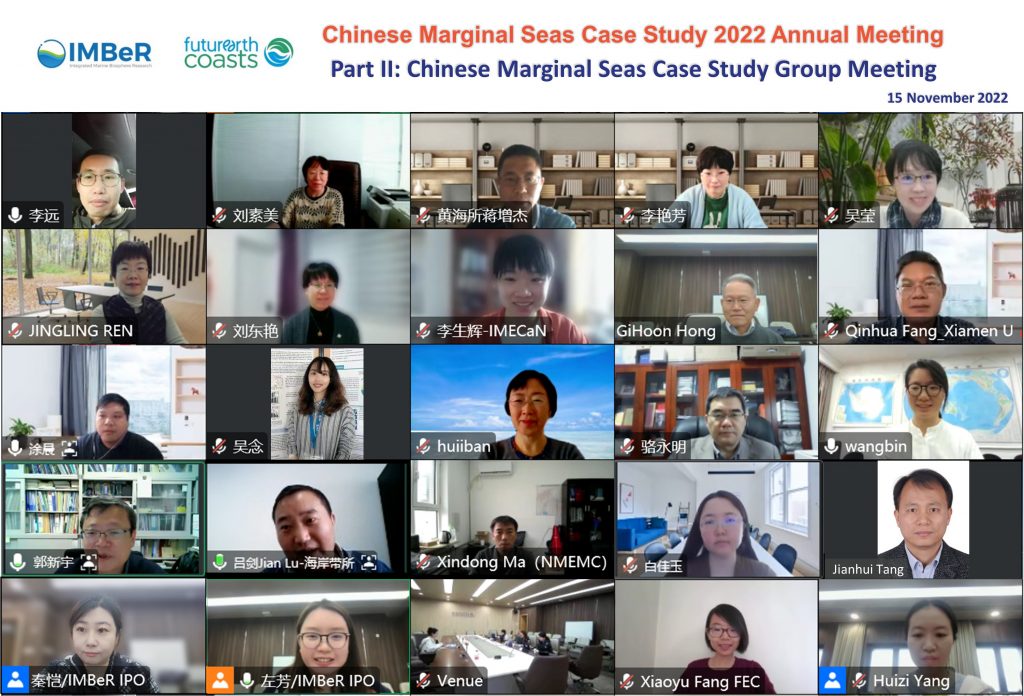 Part II: Chinese Marginal Seas Case Study Group Meeting
This session on the second day was dedicated to the CMS Study Group for their internal discussion and formulation of future science plans. Dr. Dong-Yan Liu gave the welcome address on behalf of SKLEC of ECNU, the host of both IMBeR IPO and FEC IPO. The meeting is an opportunity for members to reflect on the past progress and look forward, with a focus on the following six topics:
The ecosystem and physicochemical environment change in the last 50 years (led by Su Mei Liu, Ocean University of China)
Impacts of mariculture on eco-environment and options for sustainable sea food supply (led by Zeng-Jie Jiang, Yellow Sea Fisheries Research Institute, Chinese Academy of Fishery Sciences)
Integrated spatial planning for food-secure and carbon neutral blue economy (led by Hui Liu, Yellow Sea Fisheries Research Institute, Chinese Academy of Fishery Sciences)
China's Blue Carbon Ecosystems in the context of global change: evolvement, conservation and management (led by Qin-Hua Fang, Xiamen University)
Occurrence, ecological impact/risks and prevention strategies of normal and emerging pollutants in coastal and marginal seas (co-led by Jianhui Tang, Yantai Institute of Coastal Zone Research, Chinese Academy of Sciences, and Xindong Ma, National Marine Environmental Monitoring Center, Ministry of Ecology and Environment)
Coastal zone management and policy in the context of sustainable development goals (led by Jia-Yu Bai, Nankai University)
To incorporate all the discussion and help ensure required outcomes, a guide was proposed by IMBeR IPO to establish Terms of Reference of the CMS Study Group. The provisional application of these Terms of Reference will be confirmed soon.
A special thank you to every presenter, as well as IMBeR delegates Professors Jing-Ling Ren, Dongyan Liu, Ying Wu, and IMBeR IMECaN delegate Sheng-Hui Li, who are supporting the CMS Case Study forward!
Stay tuned to the IMBeR IPO-China for recordings of selected presentations in the coming weeks.