IMBeR Publications
Browse the IMBeR Publications through Zotero –
Special issues, books, book chapters
The Second International Indian Ocean Expedition (IIOE-2): Motivating New Exploration in a Poorly Understood Ocean Basin (Volume 3)
Deep Sea Research Part II: Topical Studies in Oceanography, Volume 179 (September 2020)
Editors: Javier Arístegui, Raleigh Hood, Lynnath Beckley, Birgit Gaye, Jérôme Vialard, VVSS Sarma, Zouhair Lachkar
Oceanic biodiversity under climate change: shifts in natural and human systems
Deep Sea Research Part II: Topical Studies in Oceanography, Volume 175 (May 2020)
Editors: Karen Evans, Haritz Arrizabalaga, Stephanie Brodie, Ching-Tsun Chang, Kevin Weng, Joel Llopiz, Joe Scutt Phillips
The 2nd International Indian Ocean Expedition (IIOE-2): Motivating New Exploration in a Poorly Understood Ocean Basin (Volume 1)
Deep Sea Research Part II: Topical Studies in Oceanography, Volume 161, Pages 1-144 (March 2019)
Editors: Raleigh R. Hood, Lynnath E. Beckley, Birgit Gaye, Sunil Kumar Singh, JeromeVialard, Jerry D. Wiggert
Global Change in Marine Systems Societal and Governing Responses
348 pages
2018 – Routledge
Editors: Patrice Guillotreau, Alida Bundy, R. Ian Perry
Future of oceanic animals in a changing ocean
Deep Sea Research Part II: Topical Studies in Oceanography, Volume 140, Pages 1-298 (June 2017)
Editors: Alistair Hobday, Haritz Arrizabalaga, Karen Evans, Kylie L. Scales, Inna Senina and Kevin C. Weng
Ocean sustainability under global change
Report from the IMBER – Future Earth Norway workshop, September 2016, Bergen, Norway
Editors: Gro I. van der Meeren and Leonie J. Goodwin
Response of Biogeochemical Cycles and Ecosystem in the East China Sea to the Multi-stressors 
Deep Sea Research Part II: Topical Studies in Oceanography, Volume 124, Pages 1-128 (February 2016)
Editors: Jing Zhang, Daji Huang, Tian Xiao, Su Liu and Jianguang Fang
Marine Regime Shifts Around the Globe: Theory, Drivers and Impacts.
Phil. Trans. R. Soc. B, Volume 370 Issue 1659
Editors: Alessandra Conversi, Christian Möllmann, Carl Folke and Martin Edwards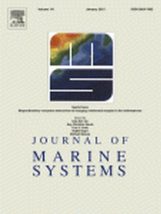 Biogeochemistry-Ecosystem Interaction on Changing Continental Margins in the Anthropocene.
Journal of Marine Systems, Volume 141, Pages 1-218 (January 2015)
Editors: Kon-Kee Liu, Kay-Christian Emeis, Lisa A. Levin, Wajih Naqvi and Michael Roman
Impacts of Climate on Marine Top Predators
Deep Sea Research Part II: Topical Studies in Oceanography, Volume 113, Pages 1-322 (March 2015)
Editors: Alistair J Hobday, Haritz Arrizabalaga, Karen Evans, Simon Nicol, Jock W Young and Kevin C Weng
Notify us of your IMBeR publications
Please notify us of your IMBeR publications. We will include them in the Zotero library and for high profile publications, we usually include them in the News section of the website (which links to the front page) and annouce the publication through Twitter.
Acknowledging IMBeR
For IMBeR linked publications, please include the statement 'This study is a contribution to the international IMBeR project' in the acknowledgments section and let us know.
When do we claim that a publication is IMBeR's?
While IMBeR encourages all research which addresses questions falling under the IMBeR Science Plan and Implementation Strategy (2016-2025), we only claim a publication as being IMBeR's when the publication would not have arisen without the involvement of IMBeR or being linked to an IMBeR "Activity". These publications are categorised as either a Class 1 or Class 2 publications:
Class 1 publications
Specifically generated through/by/from/during IMBeR activities – for example, arising from IMBIZOs and IMBeR conferences such as the IMBeR open science meeting and the IMBeR CJK symposia and from the activities of the working groups, regional programmes and the SPIS scoping teams.
Class 2 publications
On topics relevant to the IMBeR Science Plan that benefitted from some interaction with IMBeR or IMBeR activities, for example by IMBeR symposium attendees, past and present SSC members, working group, regional programme and endorsed project members, or national contacts.
Class 3 publications
Are on topics relevant to the IMBeR Science Plan but for which there is no direct link to or benefit from an IMBeR activity. These might include publications by SSC members, working group, regional programme or endorsed project members or members of the IMBeR international community that were written as part of the normal scientific activity of the authors and would have occurred irrespective of IMBeR's existence. IMBeR does not 'claim' Class 3 publications and these are not logged in the IMBeR Zotero libraries.