Improving scenarios, predictions and projections of future ocean-human systems at multiple scales
The Challenge: To incorporate understanding of the drivers and consequences of global change on marine ecosystems and human societies at multiple scales into models to project and predict future states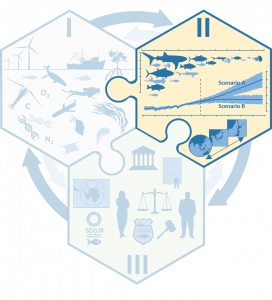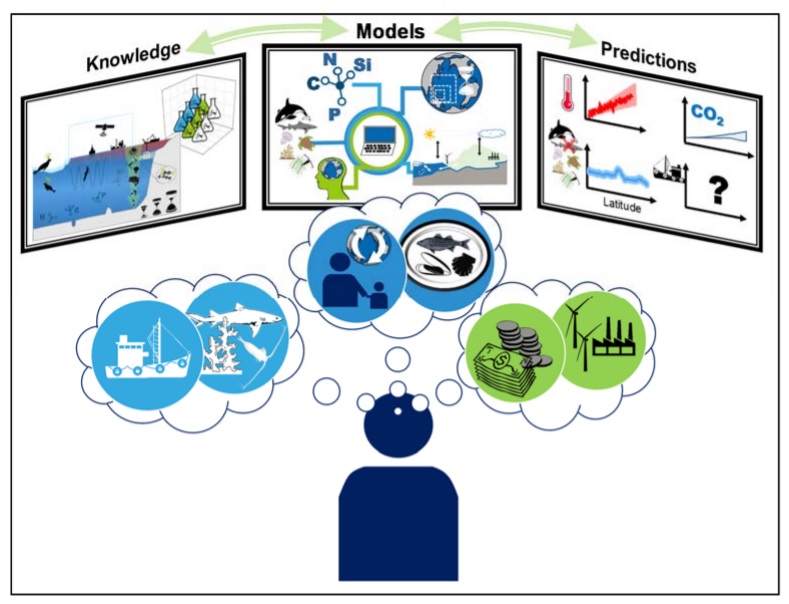 Infographic illustrating Grand Challenge II (left). Knowledge gained in Grand Challenge I is used to (i) develop models incorporating biogeochemistry, biodiversity, fishing, economics, human development, behaviour and wellbeing, and feedbacks between these, and to (ii) predict and project changes to biodiversity and ecosystem functioning including provision of ecosystem services at a range of time and space scales.
Priority research objectives (2022-2025)
Development of integrated data systems and approaches for predictions and projections
Assess the types of social science data (disciplines, scales, methods) currently available and required for use in regional/local projections and their accessibility. 
Develop approaches for integration of natural and human systems data for model validation and assessment (e.g. the IMBeR-OFI Marine Data Hub to access social and natural science data
Development of predictive models and projections for use at regional scales
Produce best practices for downscaling approaches developed for regional system modelling and projections.
Identify pathway for the integration of social processes in regional system models and projections.
Development of alternative scenarios to bridge the gap between physical climate sciences and humanities
Generate approaches to provide multi-scale storylines for local communities.
Develop coupled socio-ecological models in local areas and regions.
Key deliverables of Grand Challenge II
An assessment of the types of social science data (disciplines, scales, methods) currently available and required for use in regional/local projections and their accessibility
The development of approaches for integration of natural and human systems data for model validation and assessment
Best practices for downscaling approaches developed for regional system modelling and projections
Pathway for the integration of social processes in regional system models and projections
Generation of approaches to provide multi-scale storylines for local communities
Development of coupled socio-ecological models in local areas and regions