How IMBeR aligns with the Decade
How IMBeR contributes to the Decade
Integrated Ocean Carbon Research – IOC-R
The Integrated Ocean Carbon Research (IOC-R) programme is a formal working group of the Intergovernmental Oceanographic Commission (IOC) that was formed in 2018 in response to the 'Decade'.
In 2021, IOC-R published –  Integrated ocean carbon research: a summary of ocean carbon research, and vision of coordinated ocean carbon research and observations for the next decade.
[Full citation – Aricò, S., Arrieta, J. M., Bakker, D. C. E., Boyd, P. W., Cotrim da Cunha, L., Chai, F., Dai, M., Gruber, N., Isensee, K., Ishii, M., Jiao, N., Lauvset, S. K., McKinley, G. A., Monteiro, P., Robinson, C., Sabine, C., Sanders, R., Schoo, K. L., Schuster, U., Shutler, J. D., Thomas, H., Wanninkhof, R., Watson, A. J., Bopp, L., Boss, E., Bracco, A., Cai, W., Fay, A., Feely, R. A., Gregor, L., Hauck, J., Heinze, C., Henson, S., Hwang, J., Post, J., Suntharalingam, P., Telszewski, M., Tilbrook, B., Valsala, V. and Rojas Aldana, A. 2021. Integrated Ocean Carbon Research: A Summary of Ocean Carbon Research, and Vision of Coordinated Ocean Carbon Research and Observations for the Next Decade. R. Wanninkhof, C. Sabine and S. Aricò (eds.). Paris, UNESCO. 46 pp. (IOC Technical Series, 158.) doi:10.25607/h0gj-pq41]
How has this report been used? The G7 Future of Seas and Oceans Initiative has taken an interest in this and is relying on IOC-R as the theoretical and science base on which to propose and, if agreed upon and funded, design and implement a G7-supported surface CO2 monitoring network. At COP26 (Glasgow, 2021), the NOAA Administrator repeatedly referred to IOC-R as the science framework to develop ocean carbon observations.
Southern Ocean Action Plan 2021-2030
As part of the Southern Ocean Task Force, IMBeR's ICED regional programme contributed to the 'Southern Ocean Action Plan 2021-2030'. The Action Plan was developed through a stakeholder- oriented process engaging the Southern Ocean community which includes the scientific research community, the business and industry sector, and governance and management bodies.
As part of this global effort, the Southern Ocean Task Force identified the needs of the Southern Ocean community to address the challenges related to the unique environmental characteristics and governance structure of the Southern Ocean. Through this community-driven process, we identified synergies within the Southern Ocean community and beyond in order to elaborate an Action Plan that provides a framework for Southern Ocean stakeholders to formulate and develop tangible actions and deliverables that support the UN Ocean Decade vision.
Through the publication of this Action Plan, the Southern Ocean Task Force aims to mobilise the Southern Ocean community and inspire all stakeholders to seek engagement and leverage opportunities to deliver innovative solutions that maintain and foster the unique conditions of the Southern Ocean. This framework provides an initial roadmap to strengthen links between science, industry and policy, as well as to encourage internationally collaborative activities in order to address existing gaps in our knowledge and data coverage.
IMBeR's Events Endorsed as 'Decade Activities'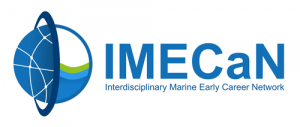 The IMBeR Interdisciplinary Marine Early Career Network (IMECaN) is working with the Decade's Early Career Ocean Professionals Network (ECOPs), and Stephanie Brodie, Chair of IMECaN, is on the 'Coordination of ECOP Activities' task team.
How IMBeR contributed to the Planning Phase of the Decade
IMBeR was actively involved in the planning phase of the Decade:
Decade Executive Planning Group (2018-2020)
Karen Evans (
CLIOTOP
co-chair) served on the Decade Executive Planning Group (2018-2020)
*
.
Southern Ocean Regional Workshop
ICED
co-organised the Southern Ocean Regional Workshop, San Diego, USA, in 2020.
Meetings Attended
2019 First Global Planning Meeting, Copenhagen, Denmark
2020 Mediterranean Regional workshop, Venice, Italy
2020 Southern Ocean Regional Workshop, San Diego, USA
2020 Western Tropical Atlantic Regional Workshop (virtual)
Comments on Decade Documents
IMBeR provided comments on Decade strategic documents-
Decade Action Plan Ocean Literacy
Ocean Decade Virtual Series
In September 2020,
ICED
scientist Eileen Hoffman presented at a virtual session on "
Co-designing the science we need for Polar regions
", as part of the Ocean Decade Virtual Series, a series of high-level and scientific interactive virtual dialogues aimed at mobilizing the global ocean community and fostering transformative partnerships and innovative solution-oriented actions to achieve the Decade Outcomes
*
.
* In a number of situations, members of the SSC, Regional Programmes, Working Groups, and IMECaN contribute to initiatives (e.g. IPCC, IPBES, WOA, and UN Decade), but are not representing IMBeR exclusively, or specifically, when they do so. It is important to recognise these contributions while also noting that they are not entirely attributable to IMBeR.