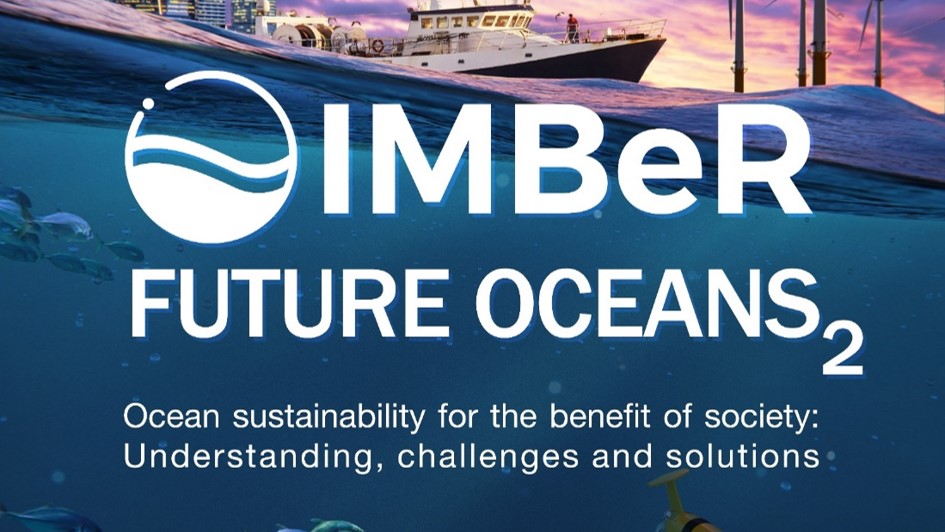 2019 IMBeR Open Science Conference
8434 people viewed this event.
Time: 2019.06.17 – 2019.06.21
Location: Brest, France
The Future Oceans2 IMBeR Open Science Conference was held at Le Quartz Congress Centre in Brest, France
Workshops 15-16 June 2019 – Main conference 17-21 June 2019
Keynote Presentations Video Recordings
---
Future Oceans2 was the second IMBeR Open Science Conference and provided an opportunity to join world leading researchers to present advances in science from all disciplines that contribute towards –
ocean sustainability for the benefit of society: understanding, challenges, and solutions
In addition to delivering an update of the pertinent science, Future Oceans2 fostered productive inter-and trans-disciplinary discussions and provided a forum to strategically map future research directions. Within this context, Future Oceans2 was based around three interlinked themes –
Theme 1. Understanding and quantifying the state and variability of marine ecosystems;
Theme 2. Improving scenarios, predictions and projections of future ocean-human systems at multiple scales; and
Theme 3. Improving and achieving sustainable ocean governance.
Future Oceans2 was an exciting mix of talks (keynote, research, and contributed -up to 10 concurrent sessions each day), posters, workshops, focus groups, world cafés, and other innovative formats to engage delegates. The conference was preceded by two days of workshops.
Participants that registered
Click the map for Pdf version.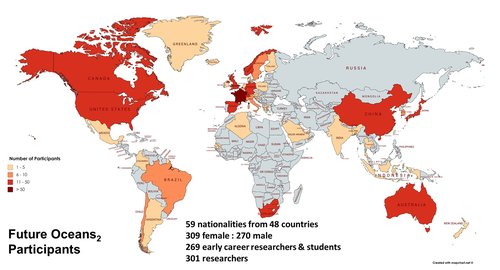 Scientific Committee
Carol Robinson (Chair) – UEA, UK
John Claydon – IMBeR IPO, Norway
Eileen Hofmann – ODU, USA
Julie Hall – NIWA, New Zealand
Paul Tréguer – IUEM, France
Maria Grazia Peninno – IEO, Spain
Prateep Nayak – U Waterloo, Canada
Priscila Lopes – UFRN, Brazil
Local Committee
Paul Tréguer – IUEM, France
Marie Bonnin – IRD, France
Nadia Améziane – MNHN Concarneau, France
Catherine Boyen – SB Roscoff, France
Olivier Thébaud – Ifremer, UMR 6308 AMURE, France
Géraldine Sarthou – LEMAR, France
Organising Committee
Gwénaëlle Coudroy – Campus mondial de la mer, France
Elena Fily – UBO, France
Marylène Faure – Brest Métropole, France
Lisa Maddison – IMBeR IPO, Norway
Veslemøy Villanger – IMBeR IPO, Norway
Fang Zuo – IMBeR RPO, China
Anne Mæland – IMR, Norway
More information
Click here to view the keynote talk videos
Future Oceans 2 App – available now!
How-to guide for the app
Helpful tips for using the app
All about the OSC
Downloads
Opportunities for sponsors & exhibitors
Event flyer
Video
Sponsors