On March 16th, 2023, IMBeR International Project Office (IPO-China) held an engaging lecture event at the SKLEC building, ECNU, which drew a diverse crowd of domestic and international students, as well as teachers and interns at IMBeR IPO-China. The lecture centered around the theme "Indus River and its Delta" was led by Professor HONG GiHoon, Strategic Director of IMBeR IPO-China, who took attendees on a fascinating journey exploring Pakistan.
During the lecture, the audience followed Professor HONG's footsteps to the Indus River, Pakistan's "Mother River" and an essential cradle of ancient Indian civilization. The Indus Valley's water resources, abundant sunlight, arid climate, and fertile land provide favorable conditions for the local development of agriculture. Professor HONG then elaborated on the history and development of Pakistan's civilization, showing the historical sites and pointing out the natural and environmental problems facing Pakistan, such as the risk of severe floods. In addition, Professor HONG shared his experiences during his visit to the National Institute of Oceanography (NIO) in Pakistan for its 40th anniversary in January 2023, including the local architecture and cultural landscape, which let the audience have a more intuitive understanding of this South Asian country. The lecture was highly informative and interactive, interweaving history and reality,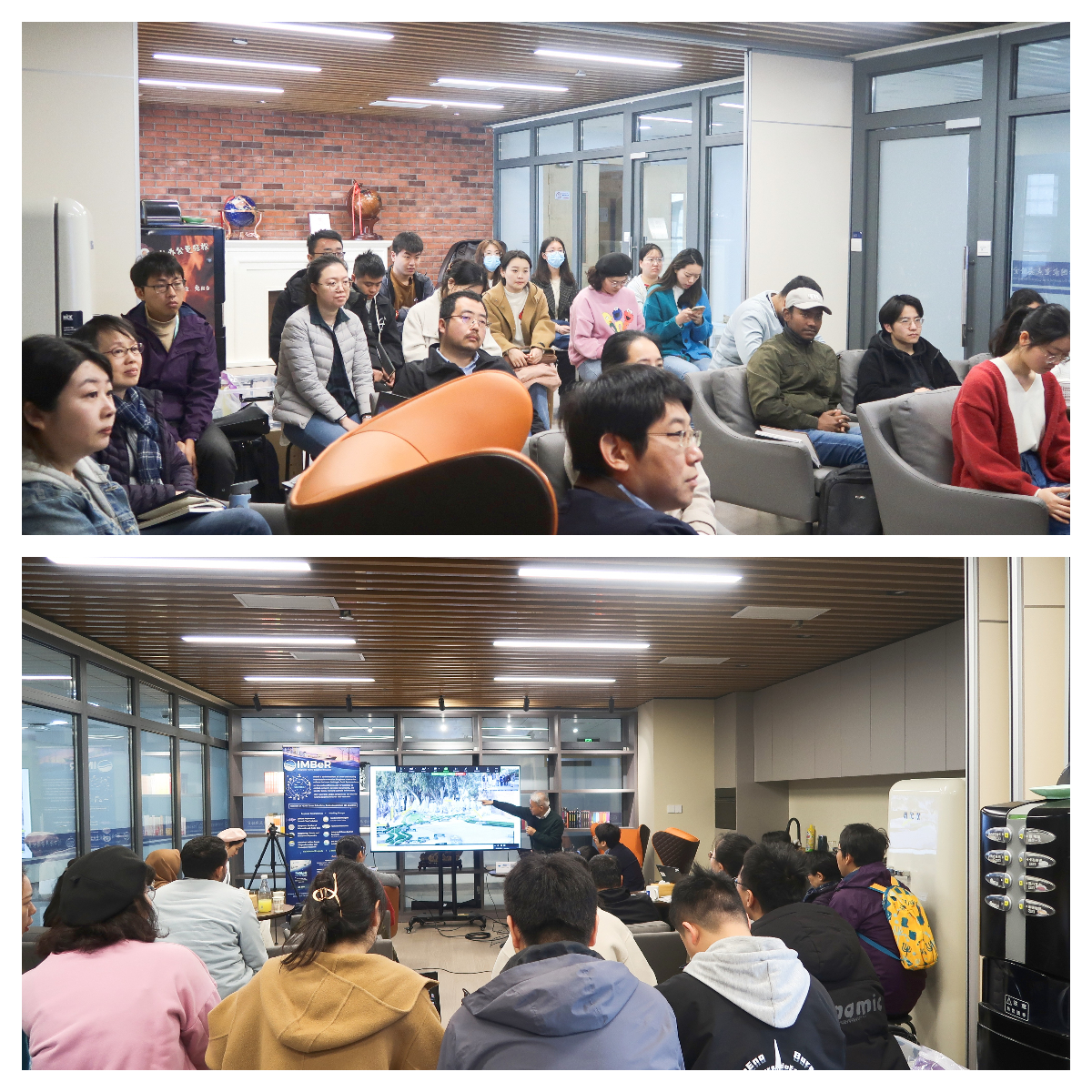 nature and humanity, arousing the audience's intense curiosity and thirst for knowledge. In this lecture, Professor Yin Jie from the School of Geographical Sciences of East China Normal University was specially invited. Based on his latest research publication, discussions have been raised around how Pakistan and other arid and semi-arid areas cope with the extreme disaster risk of climate change and the increased impact of human activities. (Nature: Flash floods: why are more of them devastating the world's driest regions?)
The students said the lecture gave them a window into Pakistan from a larger perspective of physical geography, human history, the land beyond the map, and the problems people there have to deal with. It gave them ideas and inspirations for their future study and research work.
After the lecture comes to the Coffee Reception, during which teachers and students chatted freely, sharing their academic and personal experiences and connecting.
Under the guidelines of the international work of SKLEC, this event is part of the ongoing capacity development activities hosted by IMBeR IPO-China from time to time, designed to establish an open and pleasant platform for young scholars to exchange ideas and share experiences.
IMBeR IPO-China is committed to providing early career researchers with more valuable learning and communication opportunities to help personal development. IMBeR IPO-China will continue to launch more high-quality capacity development activities. Keep an eye out for more exciting events from IMBeR IPO-China!